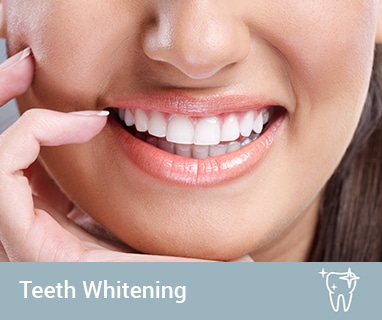 Your smile is generally the first thing you notice about someone and over time our teeth maylose their bright white sparkle. No matter how well you brush and floss your teeth, there are a number of different lifestyle factors that can cause teeth discolouration;
Generalised aging which causes the tooth enamel to wear away, showing more of the yellow coloured dentine underneath
Food and drinks such as tea, coffee, red wine and high coloured foods can cause staining
Tobacco can also cause staining on teeth
Some medications can cause staining
Dental trauma causing the teeth to become darkened or grey
At Pimpama City Dental Centre on the Gold Coast, we offer two different options for teeth whitening. The type of whitening required will depend on your individual teeth and desires. Before the treatment, a thorough examination and clean is required to ensure there are no existing cavities and the teeth are nice and clean prior to whitening. The two options available for whitening are an in-chair treatment in our Gold Coast dentistry and a take-home treatment.
In-Chair Whitening
The procedure begins by placing a barrier to protect your gums. This is followed by the placement of the whitening gel, which is left on for a period of time, removed and then reapplied.
This will be done several times throughout the procedure, and the entire treatment takes approximately one and a half hours. Results are instant, which may be desirable for those who are time-poor and want a quick result.
Take-Home Whitening
During an appointment with the dentist, impressions are taken of your teeth to construct your custom-made whitening trays. Once your whitening kit is ready to be picked up, we will instruct you on the use of the whitening kit and answer any questions you may have.
Take-home whitening trays should be worn for 2-4 hours per day for approximately 7-10 days.
Costs of Tooth Whitening
Some health funds may contribute to the cost of whitening, with some even covering the entire cost.
For more information or to schedule an appointment with one of our experienced dentists on the Gold Coast, please phone our friendly team.
FAQ Teeth Whitening