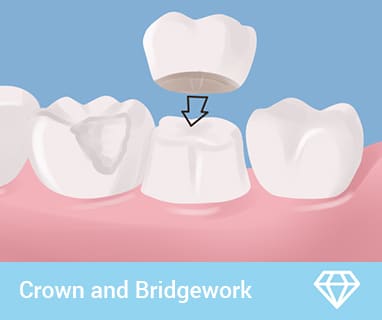 Dental crown and bridge work is a fixed appliance that may be required to help strengthen a weak or broken tooth, close a gap or for cosmetic enhancement. A dental crown is a 'cap' that encases the tooth to restore its shape, strengthen the natural tooth and improve its appearance. Dental crowns come in a variety of materials which will be dependent on your individual wants and needs. A dental crown may be required for the following reasons;
To protect and help prevent a tooth from breaking or to hold together any existing cracks in the tooth
To restore a tooth that is heavily worn down or broken
To protect a tooth that has an existing large filling
To cosmetically enhance a tooth that is chipped, discoloured or an un-desirable shape
To cover an existing dental implant
A dental bridge is recommended when there is one or more missing teeth. A dental bridge is a number of crowns fused together to replace these missing teeth. They are a fixed appliance and similar to crowns, are available in a number of different materials dependant to your individual needs.
Dental crowns and bridges are custom made to your teeth and colour matched to suit your smile.
Our Gold Coast dentists at Pimpama City Dental Centre use only the best local dental laboratories to ensure the best outcomes. If you are considering a dental crown or bridge, phone our friendly team to arrange a suitable time with our dentists.