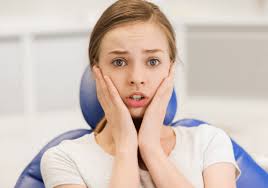 If you are feeling nervous or anxious when you think about coming to the dentist, you are not alone. Many people often put off their dental appointments and treatment or just avoid coming to the dentist altogether because of such severe anxiety. Unfortunately, this puts your oral health at risk.
Many people experience anxieties due to bad experiences in their youth. Dentistry is one of those things that are ever evolving and ever improving. Many of our patients walk in feeling anxious, scared & nervous but walk out feeling relived and stress free. This is because Dentistry has come a long way, even in the last 10 years' dentistry has changed dramatically.
Distractions are a good way to get through any anxiety you are experiencing. As we are well aware of this we have placed televisions on the roof and even have Netflix so you can distract yourself with your favorite movie or show. You are also welcome to bring in your own music and headphones to use. Keeping your hands busy by squeezing a stress ball is a good distraction too! Relaxation techniques such as paced breathing exercises have been known to work.
Everything we use at Pimpama City Dental Centre is of the highest standard and latest technology. We are patient focused from the moment you walk in the door. Our aim is to provide you with the best possible experience you can have. Whether that is to get you out of pain or keep you from experiencing pain. We will always do our best to ensure you are looked after, put at ease and walk away with a positive experience. Don't put off making an appointment any longer, come in and see our friendly team today!